For over 45 years, Oxysign has made your mark in the world
A French specialist in industrial marking and signage, we master infinite possibility in every dimension. From large series for global distribution to unique custom items. And from ultra-tech products to the millennia-old art of screenprinting on walls.
Our purpose is to make your visible sign, your singular sign, your useful and effective sign for communicating, informing and guiding.
To mark what you imagine possible, we must often erase what is impossible – impossible in terms of organization, technology or deadline.
But we succeed, because each project bears our hallmark: a corporate culture whose cardinal points are excellence, agility, quality and performance; the care we take to enhance our people's wellbeing and reduce our environmental impact; and our passion for service and solutions.
This is why leading manufacturers, corporations and brands, as well as public authorities, trust Oxysign to make their signs.
How about you?
Oxysign will help to realise your every possibility.
Advice on industrial marking and signage.
In-house design, process and innovation unit.
100% made in France.
Ultra-responsive logistics (24/48h for aeronautics worldwide).
Installation: 24/7, sensitive environments, occupied spaces, multiple sites across France and Europe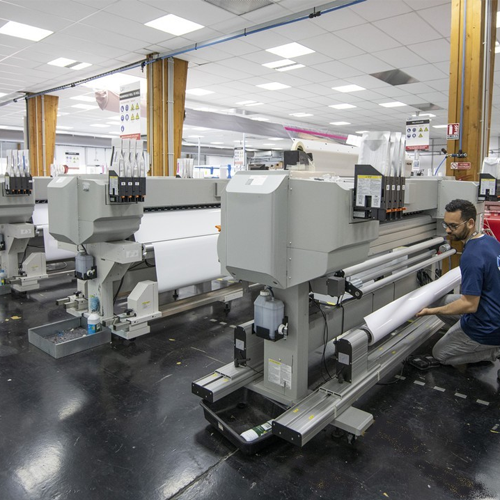 Custom production resources
Production-focused management
From your quote to your shipment, every step in the manufacturing process is built around production. Each player in the process is in constant contact with the production department, to make sure that the customer's quality and deadline specifications are met:
Sales and Quotations
Procurement
Design and Methods (design of new products, prototypes, manufacturing process and organisation of production)
Industrialisation
Planning
Manufacturing
Control
Shipping/Delivery
Installation
A production facility's performance is about more that meeting cost, quality and deadline requirements. It is geared to excellence, while maximising the push for progress.
Industrial resources to sign off on
130 experts, engineers, technicians, administrative staff
3 factories in Aubagne (4,500 sqm), Clichy (800 sqm) and Marseille (400 sqm)
25 printing lines (18 digital, 7 screenprint), all running in 2 shifts (with transition to 3 within 24 hours)
16 cutting lines
7 machining / engraving lines
A continuous improvement production strategy
The performance of our production facilities naturally depends on our ability to control costs, quality and lead times, but we also target excellence through a continuous improvement strategy, by:
Improving quality
Adapting to demand
Reducing lead times
Improving productivity
Optimising our response
Ensuring customer satisfaction
All Oxysign production flows are automated to ensure quality at every stage of the process, from order entry to shipping.